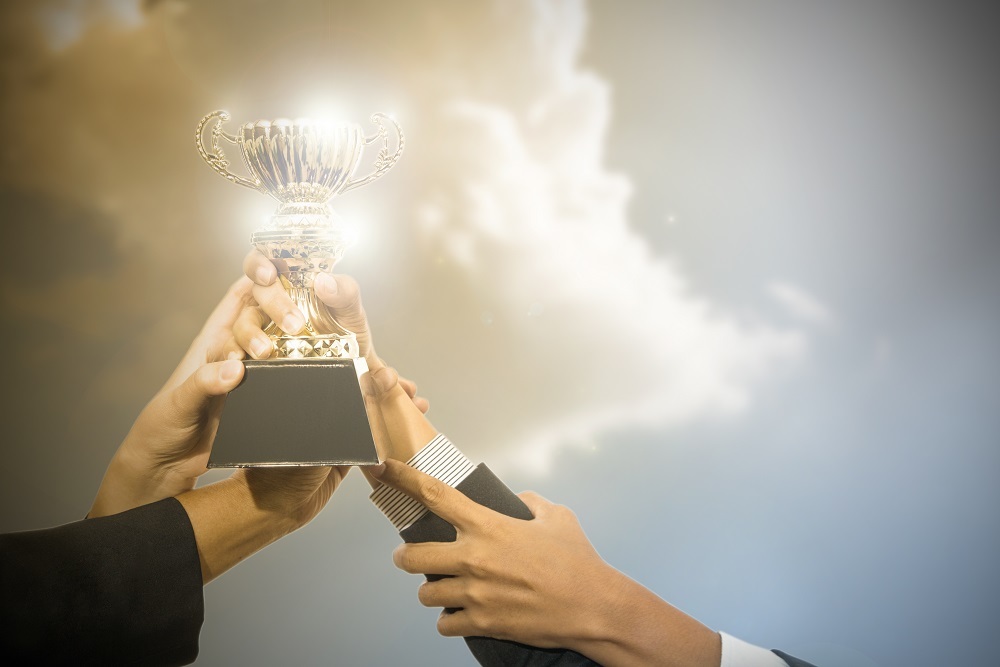 Kingsport Chamber issued the following announcement on Dec. 3.
The Kingsport Chamber honored longtime Kingsport business, economic development and community leader Larry Estepp with its prestigious Lifetime Member Award during its State of Your Kingsport Chamber Holiday Breakfast Friday morning at the MeadowView Marriott Conference Resort & Convention Center.
The event was sponsored by ABC Tri-Cities; Anita's Snack Foods; Appalachian Community Federal Credit Union; Appalachian Power; ARO; BAE Systems; Ballad Health; Bank of Tennessee; Bristol Motor Speedway; Carter-Trent; Chef's Pizzeria; Cigna; Citizens Bank; Contour Glass; Cooper Standard; Domtar; East Coast Wings Grill; Eastman; Eastman Credit Union; First Tennessee Bank; Food City; GRC Construction/CainRashWest Architects; GRIFOLS; Hamlett-Dobson Funeral Homes; Honda Kingsport; Horizon Credit Union; J.A. Street & Associates; Mattern & Craig; News Channel 11; New Peoples Bank; Powell Valley National Bank; Preston Place; Regions Bank; Rodefer Moss & Company; Tele-Optics; The Blake at Kingsport; The Regional Eye Center; The Village at Allandale; Town Park Lofts; Tranquility on Center Salon, Spa & Boutique; VIPSeen Magazine; Volunteer Painting & Remodeling; and WorkSpace Interiors.
A past Kingsport Chamber president, Estepp currently serves as president of Citizens Bank.
He is the thirty-third recipient of the award.
Estepp will also be recognized at the Kingsport Chamber 72nd Annual Dinner on Friday, February 1, 2019, at 7 p.m. at the MeadowView Marriott.
Tickets for that event go on sale in January.
"Larry is a tireless and devoted leader – both in terms of economic development and community service – that we all should emulate," said Bob Feathers, Kingsport Chamber chair, president of WorkSpace Interiors and owner of East Coast Wings Grill. "His incredible work with the Kingsport Chamber, the Kingsport Economic Development Board, NETWORKS and countless other organizations and non-profits is unmatched and greatly appreciated. He continues to give of himself to help others. We are so honored to bestow upon him this well-earned accolade."
"Humble. Kind. Smart. Dedicated. Loyal. Giving. Respected. Admired. Servant Leader. These are just a few of the many words I could use to describe Larry Estepp," said Miles Burdine, Kingsport Chamber president and CEO. "For years, Larry has given of his time, talents and heart to make this a great community…and he has done so with a gentle, generous and selfless spirit. He embodies servant leadership and his generosity and volunteer commitment have touched many lives. His business and economic leadership for our city will make a tremendous impact on this community and region for years and years to come. This is a much-deserved honor and we are so happy to present it to him."
The Kingsport Chamber Lifetime Member Award goes to an individual who has made an enormous contribution to the Kingsport Chamber and the community throughout his or her lifetime.
With the award, Estepp will receive complimentary membership to the Kingsport Chamber for his life.
Other Kingsport Chamber Lifetime Member recipients include Wallace D. Alley, John W. Andersen, Sam H. Anderson, Jr., Frederick Henry "Pal" Barger, Jr., E. B. "Jitney" Blankenbeckler, Jeanette D. Blazier, William C. Bovender, Frank B. Brewer, Frank M. Brogden, A.B. Coleman, Betty W. DeVinney, John F. Douglas, William D. Dudney, C.B. "Boots" Duke, IV, Eleanor Eason, Rodney D. Irvin, Farris Jackson, D. Lynn Johnson, J. Lane Latimer III, Leland C. Leonard, Dr. William W. Locke, Kenneth H. Maness, G. Payne Marshall, Ronald G. McMasters, Robert L. Miller, Charles Edward Moore, Mike O. O'Neill, Dennis R. Phillips, Darrell W. Rice, James P. Rogers, Keith D. Wilson and Dr. Brenda White Wright.
Original source can be found here.